Sliding Doors from DVD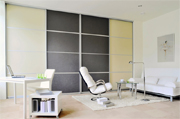 Here at DVD we also manufacture an extensive collection of custom designed, made to measure sliding doors, with designs to suit any bedroom, from minimal classic with mirror or glass to modern designs with multiple panel choices including lacquered or coloured glass, high gloss, wood print or exotic panels, or a combination - the options are endless! The EasiSLIDE mechanism and track has been designed and is manufactured in mainland Europe from high quality aluminium, by one of the leading sliding door system manufacturers. Our Sliding Doors are handmade and assembled in the DVD factory to the strictest quality standards, which ensures that our EasiSLIDE sliding doors run smoothly and fit perfect. A softclose upgrade is also available.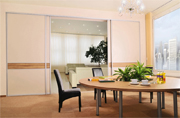 In addition to our beautiful EasiSLIDE Sliding Doors we also manufacture a full range of robe internal units offering extensive hanging space, shelving and storage options. Plus our bespoke made to measure and fully colour co-ordinated bedroom furniture, either fitted or freestanding to fully complement any bedroom design.
EcoSLIDE

The latest addition to the DVD Sliding Door Collection is the DVD EcoSLIDE system which offers excellent design options and flexibility but for single panel designs per door, with runs up to 2mts for a two door set and 3mts for a three door set, all in one decor design.

Please contact a member of the DVD team for further information.